10 SMS Marketing Examples We Love
If your marketing strategy doesn't include SMS marketing, you're missing out on a big opportunity to connect with customers and build your brand. With an average open rate of 98% compared to roughly 20% for emails, SMS has the potential to make a big impact on your marketing ROI. If you're on board with the idea of SMS marketing, but need a little inspiration, check out these 10 examples of great SMS marketing. From software to clothing to the stock exchange, SMS marketing can be an important channel to add to your greater marketing strategy in any industry.
1. USA Today The Short List
Sometimes the news cycle can feel a little overwhelming, so with The Short List, USA Today editor Ashley Shaffer sends out an SMS with the day's most popular stories, condensed into a super-speedy format. If recipients want more, they can click through to the USA Today website, and get the full roundup of the day's most popular news. 
2. Urban Outfitters
Clothing retailer Urban Outfitters uses SMS messaging to connect customers with the UO ChatBot. Through a series of message options, it's possible to check the status of an order, find out more about their returns and exchange policies, and connect with a customer service agent for more complex inquiries.
3. JUDY
JUDY supplies a range of emergency products, from ready-to-go survival kits to portable power stations, first aid essentials, and more. Sign up for their SMS alerts, and they'll send you promotional and personalized SMS messages. Their chatbot will also reply to messages asking about disaster preparation, what to include in an emergency kit, and how to prepare if you and your family find yourselves in a real-time emergency.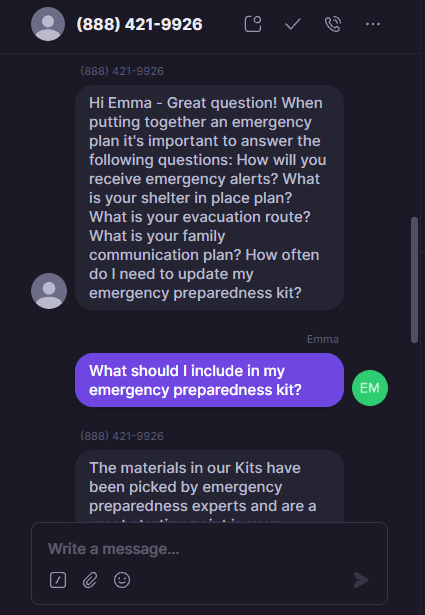 4. Microsoft
Microsoft 365 allows users to sign up for text alerts for lists and list alerts. It's a great example of a use case for SMS in customer marketing, because Microsoft is using hyper-personalized SMS to help embed their product. Using the immediacy of SMS, Microsoft 365 is improving adoption, and providing a supportive, helpful push toward achievement, whether it's a business, family, or student using their products. 
5. Mindset of a Hustler
The Mindset of a Hustler community offers SMS for daily motivational texts on a range of topics. Daily reminders are designed to help followers overcome limiting beliefs, establish healthy habits, and set actionable goals.    
6. Eagle Investors Stock Alert
Keeping up to date with the stock market can make trading more profitable, but it's not always easy to follow those significant changes. With Eagle Investors real-time stock alerts, traders can stay in control of investments and options. The investment firm builds brand affinity by offering the chance to join a global community of traders who share their knowledge.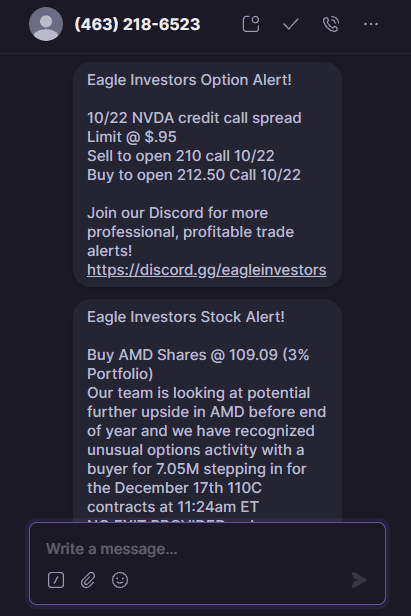 7. Jenna Kutcher
Marketing entrepreneur and beloved host of the Goal Digger podcast, Jenna Kutcher, has an SMS marketing program that nurtures her community with weekly inspirational messages, questions, and links to courses, podcast episodes, and more.  
8. Best of Target
Subscribers can check out trending products, new releases, and the best deals from Target with the Best of Target SMS alerts. The worldwide retailer sends exclusive content for clothes, beauty, homewares, and more. Their linked Instagram page has 119k followers and plenty of inspiration for that shopping spree. 
9. Divi
Divi is a new health and wellness company from Instagram influencer Dani Austin. The beauty brand recently used SMS marketing for the launch of their new hair care products. Subscribers to their SMS alerts have the opportunity to purchase products on a pre-release basis, a tactic that proved so popular that their new Scalp Serum sold out in record time. 
10. Act-On
One of our favorite examples is our own implementation of of SMS marketing to improve webinar registrations and attendance, because it's working. In fact, the attendance rate for our webinars has grown by 80% since implementing day-before and day-of reminders via SMS. Our attendees have become even more engaged as well, because it's personalized and convenient to learn about marketing and sales topics of all kinds. B2B SMS marketing can clearly be an important addition to your marketing efforts. 
Create Value and Expand Your Reach with SMS Marketing
Using SMS marketing as a direct way to stay in touch with your customers is an excellent option to future-proof your strategies. With changes to email privacy protection, and ever-changing social media algorithms, it's more important than ever before to find a way to connect. SMS marketing offers a direct line to the devices we all have in our pockets and purses every day. It's definitely a great option to increase engagement with your brand and its offerings, as long as you do it correctly. We hope these 10 examples provide some inspiration.